When Potaua Biasiny-Tule talks in public, people listen. And that's not just because of a colourful, down-to-earth presentation style that mixes Maori, English, tech-talk and expletives and got Potaua and his wife Nikolasa voted best speakers at the recent  WordCamp New Zealand conference.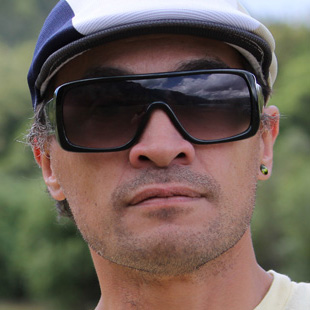 Thirty seven-year-old Potaua is also one of the key influencers in the country when it comes to Maori people, language and technology. Born in Opotiki in the Bay of Plenty and raised in Rotorua, he became hooked on spaceys when his local dairy opened an arcade, and his passion for the internet was cemented in 1999 when he saw the benefits it was having on rural Indian communities.
Now he is Managing Director and creative boss of the Māori-run and operated news and ICT company TangataWhenua.com, which recently launched a Maori news app for iPhones.
He and Nikolasa also managed the final year of the Google Maori project. This saw 40 volunteers complete the translation of more than 1,600 terms and phrases, meaning users can now navigate the Google interface in Maori – all the words, messages, buttons and advanced search fields are now in te reo. The page now gets up to 100,000 visitors a day.
Now Potaua has turned his attention to other things, including how the Treaty of Waitangi is relevant in a digital context. A strong advocate for Maori rights to the digital spectrum, he is also a spirited advocate of getting rural communities quick and equal access to fast broadband through Ultra-Fast Broadband and the Rural Broadband Initiative.
The issue isn't easy. While he sees quality broadband connections to the country's marae as one of the keys to overcoming the digital divide ("Marae = access, access = knowledge, knowledge = power for whanau and communities"), he believes marae (and rural Maori homes) risk being low priority in technology roll-outs.
"Technology can be over-hyped, over-promised and under-delivered, especially in rural areas, he says. "Everyone says 'Get an iPad', get a this, get a that, but when you are in Waimana, you can't get [anything]. Cities like Auckland, Wellington, even Rotorua, are racing ahead [with broadband], but go ten minutes out and they are way behind. You've got one place on my uncle's porch where everyone stands to get a connection!"
He says many Maori want to move back to their ancestral and spiritual villages, or papakainga, but for this to work these communities need priority access to technology.
Original article found here