In the lead up to Christmas, a small wish was answered early as iTunes approved the TangataWhenua.com Maori News app.
We are honoured to share our taonga with our whanau and appreciate them adding this app to their digital kete" said Managing Director, Potaua Biasiny-Tule.
The Maori News app is free and can be downloaded from the Apple iTunes app store and loaded on your iPhone, iPod Touch and is compatible with iPad.
Our Maori News app offers all of TangataWhenua.com's latest content, stories and panui, related to Whanau, Hapu, Iwi and Marae (community), Whenua Rangatiratanga (politics), Mahi Moni (business), Hauora (health), Toi Maori (arts) and offers unique perspectives from some of our best and brightest Maori contributors from at home, on the marae and around the World" said Creative Director, Nikolasa Biasiny-Tule.
The Maori News app has been designed to be interactive and allows you to add comments, upload your own content and share important news with your social networks (Facebook, Twitter and Email).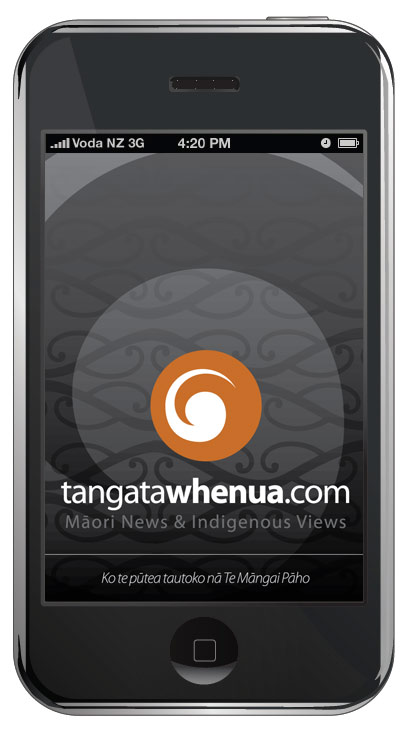 Research suggests that there will be a pronounced increase in the use of smartphones to access the internet in the coming years, and we're proud to be able to add this valuable Maori resource to the likes of Te Wananga o Raukawa's eWai app and Kiwa Media's Qbook apps.
iPhone use on TangataWhenua.com accounts for 24% of all mobile devices followed by the iPad at 13%.
The app was developed by MOA Creative an Auckland-based app developer, the Maori-specific graphics were created by Mau Creative a Rotorua-based design house and key functions were coded by a budding team of Maori app and API developers also based in Rotorua.
TangataWhenua.com's app was made possible with the generous support of Te Mangai Paho through their first ever Digital Innovation Fund.
Whenever possible we choose to work with Maori in the ICT industry, because for us, it's all about building capacity within our communities and empowering Maori to help create these new sets of digital tools".
Over the coming months TangataWhenua.com will continue to work to improve the overall experience and feature offerings so keep a look out for future updates. We are also starting development on our iPad version, which will be a real treat, and look out for a App Development Bootcamp sometime in 2013!
http://itunes.apple.com/us/app/maori-news/id489728606?mt=8&ign-mpt=uo%3D2